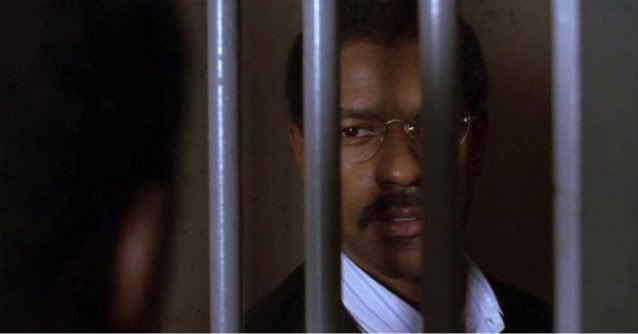 Hate put me in prison. Love's gonna bust me out.
I try to avoid hyperbole in this blog, but I wouldn't be saying that if I wasn't about to drop a huge bomb of hyperbole all over the place. Here goes: Denzel Washington's performance as Rubin "Hurricane" Carter is the best performance by an actor in a movie... ever... Others have portrayed historical figures and others have portrayed people as they have aged through their entire lives, but none with the honesty and intensity that Washington brings to this role. This is a wonderful story, but the performance of the title role bumps it from average to extraordinary.
As I've said before, I get really worked up over the Academy Awards. I will never forgive Kevin Spacey for stealing Denzel's Oscar. I know it wasn't his fault that more people voted for him, I know Denzel got his only a couple of years later (for a much less ground-breaking role in "Training Day" mind you), and I know that "American Beauty" was the movie of choice from 1999, but it just doesn't make it right...