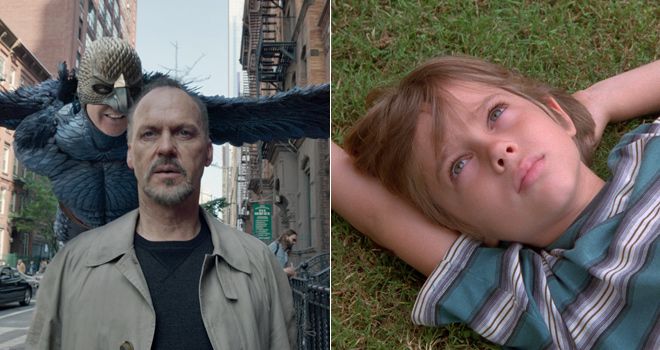 Best Picture
American Sniper
Birdman
Boyhood
The Grand Budapest Hotel
The Imitation Game
Selma
The Theory of Everything
Whiplash
I'm gonna do this a little different and just comment in the middle of my ballot. As with all of my ballots they are ranked from best to not.
My Ballot:
Boyhood
My favorite director gets together with my favorite actor to make a movie that has never been attempted that actually works. I. Love. This. Movie.
Selma
Most movies like this tend to attempt to preach by painting with broad strokes about the entire civil rights movement, but Ava Duvernay takes one snippet of the movement and gives it the epic attention it deserves. This allows the performances to shine brighter, and the message to gain a sense of immediacy and timelessness that is hard to avoid.
The Imitation Game
Birdman
The Grand Budapest Hotel
The Theory of Everything
Whiplash
This group of films represents why I truly believe we remain in the golden age of American cinema. So many brave, unique, and brilliantly entertaining films are made each year. I consider us all lucky.
American Sniper
My thoughts on this film depend on what it wants to be:
-A War Hawk film- judging by the box office and the groups that have embraced this film, I would say it has succeeded. Unfortunately, a film to fire up the zeal of the American people towards our military is something we simply do not need.
-An Anti-War film- if this was what Eastwood intended, he failed miserably.
-A Veterans-Awareness film- I like to think this is what the film is, but once again, it has missed the mark. Why build up the larger-than-life superhero Chris Kyle character created by Kyle's book and fan-base instead of focusing more on the real struggles on the homefront? Why omit the fact that Kyle was drinking at the gun range with his assailant when he was killed? Why reduce Kyle's family to weeping cardboard-cutout stereotypes? If Eastwood was trying to make this kind of film, why didn't he try to emulate
The Deer Hunter
or
Born on the Fourth of July
instead of
Rambo
?
As you can see, whatever this movie wanted to be..... I wasn't a fan.
My Pick to Win:
Birdman
Shamefully Snubbed:
Interstellar
RECAP!!! Here are my final predictions:
Best Picture: Birdman
Best Director: Richard Linklater
Best Actor: Michael Keaton - Birdman
Best Actress: Julianne Moore - Still Alice
Best Supp. Actor: J.K. Simmons - Whiplash
Best Supp. Actress: Patricia Arquette - Boyhood
Best Adapted Screenplay: The Imitation Game
Best Original Screenplay: Birdman
Best Cinematography: Birdman
Best Costume Design: The Grand Budapest Hotel
Best Editing: Boyhood
Best Makeup: The Grand Budapest Hotel
Best Original Score: The Theory of Everything
Best Original Song: "Glory" - Selma
Best Production Design: The Grand Budapest Hotel
Best Sound Editing: Interstellar
Best Sound Mixing: Interstellar
Best Visual Effects: Interstellar
Best Animated Film: Big Hero 6
Best Documentary: CITIZENFOUR
Best Foreign Film: Ida
Be sure to keep score tonight!!! My hopes are pretty low for my picks this year, I fully expect surprises galore!!!