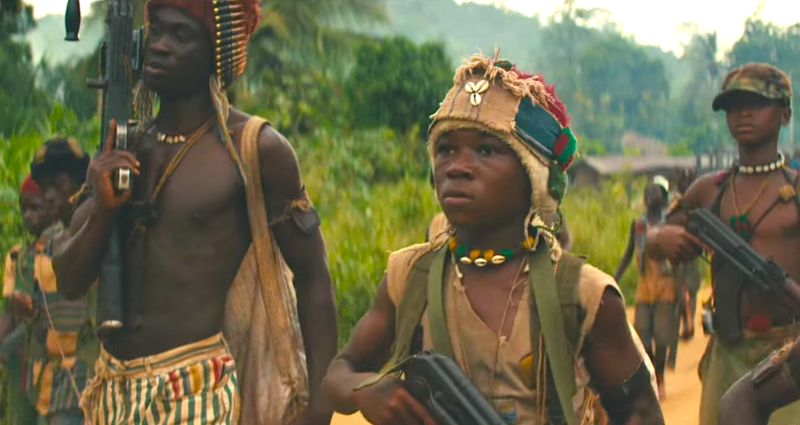 I saw terrible things... and I did terrible things. So if I'm talking to you, it will make me sad and it will make you too sad. In this life... I just want to be happy in this life. If I'm telling this to you... you will think that... I am some sort of beast... or devil. I am all of these things... but I also having mother... father... brother and sister once. They loved me.
I'm not so sure how I feel about this inevitable shift from the big screen to the small screen as more movies are released on digital formats instead of in theaters. On one hand, I like the universal accessibility (I don't have to drive to Raleigh), but on the other hand I really believe we miss something when we are watching a movie alone huddled over a laptop rather than collectively in a dark theater. This movie was released exclusively on Netflix after a very limited theatrical debut (New York & LA), and I think it probably leans more towards my accepting of our impending shift in movie watching. I'm almost glad I saw this one alone. There aren't many laughs or touching moments to be shared with an audience. It's more of a grinding, painful realization of how good we have it, and how very bad others have it in this life. The young (mostly amateur) actors execute this film with stunning realism, following the lead of Idris Elba who portrays the "Kony-like" leader of their guerrilla troop. This attention to detail gives the film a documentary-esque feel which makes their story all the more painful.
In our time of plenty and petty conflicts or privilege,
Beasts of No Nation
is certainly not a fun film by any means but it certainly is a necessary one.