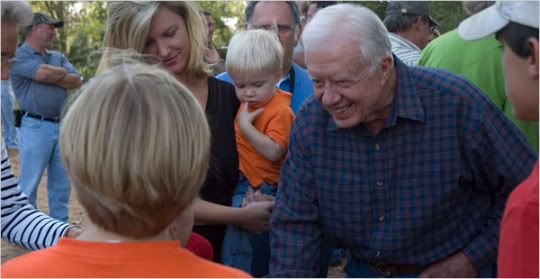 Thank you Mr. President!
And let us not be weary in well doing: for in due season we shall reap, if we faint not. - Galations 6:9
I could say that this film earned a spot on this list because of its awesome direction by Academy Award-winning feature film director Jonathan Demme, but I'd be stretching the truth a bit. I freely admit that my love for this movie comes from my ever-growing respect and admiration for its subject. I've often heard many negative things about President Carter during my life, and, not being old enough to remember his Presidency, I usually do not try to defend him. I still don't quite get it though. This man left his farm in Georgia to become governor and then President, championed peace and equality for all at every turn, and has been working his butt off for the past 30 years with projects such as Habitat for Humanity, various charities, and raising awareness about the plight of the middle east. This film captures Carter's work ethic, not just with signing checks and decision making, but with his hands and feet as he still is not afraid to truly work hard to get jobs done. This movie also inspired me to begin collecting his many books and I find them priceless works of inspiration, spirituality, and just plain common sense.