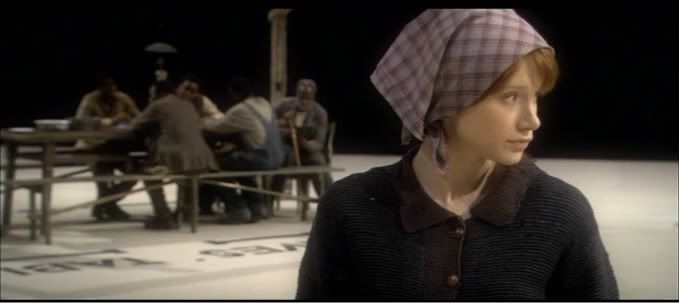 -There's nothing to be afraid of. We've taken all of the family's weapons.
-No. I'm afraid of what will happen now. I feel we ain't ready - for a completely new way of life. At Manderlay we slaves took supper at seven. When do people take supper when they're free? We don't know these things.
The second movie in Lars Von Trier's as yet unfinished trilogy "USA - Land of Opportunites". Where "Dogville" made the viewer question the way they look at and treat the poor, "Manderlay" looks at Americans' views about race, slavery, and what it means to be free. Bryce Dallas Howard takes over Nicole Kidman's role as Grace and, in my opinion, actually does a better job. She plays the role with the honesty and vigor that truly links the viewer to her intentions and her plight as she attempts to forcibly free the slaves of a southern cotton plantation. I must warn viewers though, this movie is very graphic in its treatment of it subjects (both human and animal).