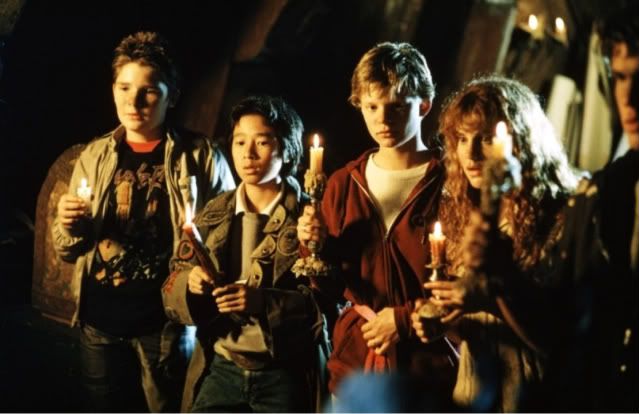 Don't you realize? The next time you see sky, it'll be over another town. The next time you take a test, it'll be in some other school. Our parents, they want the best of stuff for us. But right now, they got to do what's right for them. Because it's their time. Their time! Up there! Down here, it's our time. It's our time down here.
When I was three years old, my Grandmama took me to see my first movie: "Follow that Bird". It was the first Sesame Street movie, and I really don't remember much about the experience except that I was sad when they painted Big Bird blue. In June of 1985, a few weeks shy of my fourth birthday my Mama went to the hospital to await the arrival of my sister, Kim. I'm not really sure how it happened (probably something about a preschooler and sitting around the hospital not meshing too well), but my Daddy ended up taking me around the corner to the old Plaza movie theater in Kinston. What we would see would change the way I look at that big moving screen for the rest of my life. Daddy still gets tickled thinking about me literally falling out of my seat laughing when Brand burns the training wheels off a little girl's bicycle and flies off of the road.
Goonies is the perfect movie for little boys (and girls for that matter). What sets this adventure story apart from things like Star Wars, James Bond, or Indiana Jones, is that the stars are real kids with no special powers who just happen to stumble upon a treasure map. The Goonies talk, argue, play, and flirt just like my friends on the playground did. It didn't hurt that the kids ended up being chased by criminals, beating "booty" traps, discovering (and exhuming) a real pirate ship, and ultimately saving the endangered homes of their parents. There are so many things from this film that bring my generation together. Say "HEY YOU GUUUUYYYYYYS!" in a crowd of 25-35 year-olds and everyone instantly looks around for Sloth swinging in on a rope to save the day. The "Truffle Shuffle" gives young men like myself something to do when the ESPN camera points to them after an ECU touchdown. It really all comes down to the fact that "What's good enough for you, is good enough for me!"