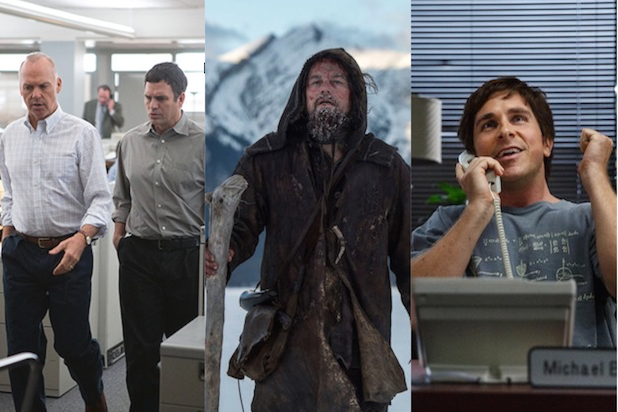 Best Picture
The Big Short
Bridge of Spies
Brooklyn
Mad Max: Fury Road
The Martian
The Revenant
Room
Spotlight

As pictured above this is a three horse race between Spotlight, The Revenant, and The Big Short. The Revenant seems to be the favorite with the most nominations, but Spotlight has been my gut feeling and the experts pick for a few months now. The dark-horse here is The Big Short which would be the most politically and socially relevant choice of the three, but voters haven't really been motivated by those causes of late. As for my personal choices, this is probably the strongest Best Picture field in years. Four of them (Room, Brooklyn, The Big Short, and The Martian) are in my top ten favorite films of the year. Three of them (Bridge of Spies, Mad Max, and The Revenant) would find a spot in my top twenty. Spotlight was the only film I was disappointed with. It was solid, but a wholly underwhelming experience.... which is why it will most likely be hoisting the big prize tonight.... of course.
My Ballot:
Room
Brooklyn
The Big Short
The Martian
Bridge of Spies
Mad Max: Fury Road
The Revenant
Spotlight
My Pick to Win:
Spotlight
Shoulda Been Here:
When Marnie Was There

Its been fun! Here is my final summary of all of my picks for tonight. Like last year, I expect surprises galore:
Best Picture: Spotlight
Best Director: George Miller - Mad Max: Fury Road
Best Actor: Leonardo DiCaprio - The Revenant
Best Actress: Brie Larson - Room
Best Supporting Actor: Sylvester Stallone - Creed
Best Supporting Actress: Alica Vikander - The Danish Girl
Best Documentary: Amy
Best Animated Film: Inside Out
Best Cinematography: The Revenant
Best Production Design: Mad Max: Fury Road
Best Costume Design: Cinderella
Best Editing: The Big Short
Best Adapted Screenplay: The Big Short
Best Original Screenplay: Spotlight
Best Makeup & Hairstyling: Mad Max: Fury Road
Best Sound Editing: Mad Max: Fury Road
Best Sound Mixing: Mad Max: Fury Road
Best Visual Effects: Mad Max: Fury Road
Best Score: The Hateful Eight
Best Song: "When it Happens to You" - The Hunting Ground
Best Foreign Language Film: Son of Saul
Best Documentary Short: Last Day of Freedom
Best Animated Short: Sanjay's Super Team
Best Live Action Short: Day One

See ya tonight on the red carpet!!!!!!!!!!!