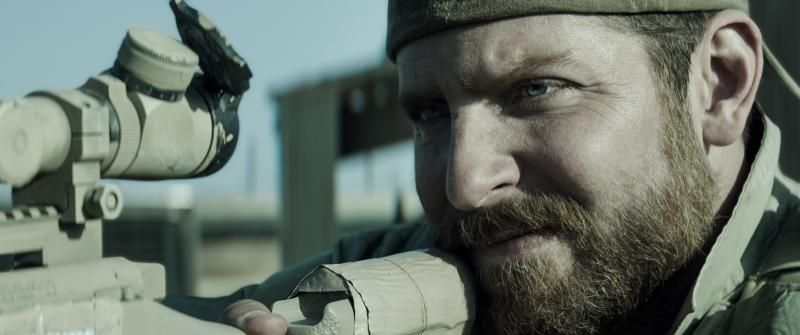 Whew..... So I just got home from the theater. I will have some very long thoughts upcoming about my feelings on this film, but for now I really need to get something off of my chest. Spoilers unrelated to the central plot of
American Sniper
follow below...
****** SPOILERS ***** SPOILERS *******
The final scene of Clint Eastwood's film begins with Bradley Cooper portraying a happy and healthy Chris Kyle (permanently home after his multiple tours in Iraq) sneaking through the house playfully with a revolver in hand. This is a real revolver and obviously not a toy. He gestures to his 6 or 7-year-old daughter (playfully, again) to be quiet, steps over his 11 or 12-year-old son who is playing video games, and enters the kitchen to "sneak up" on his wife. He points the gun at her, cocks it (you clearly see him pull back the hammer), and jokes to her "drop your panties". They have an adorable, innuendo-laced, short conversation all the while with a cocked revolver in Cooper's right hand. He then realizes it is time for him to leave. He rushes out of the house (for what is pretty clearly a day-long excursion) and places the gun on the top of a cabinet beside the doorway.
WHAT?!?!?!?!?!?! WHAT!?!?!?!? WHAT!?!?!?!?!?!?!
Problem #1: GUNS ARE NOT TOYS!!!! My Dad taught me this at a very young age. If the character were holding a plastic cowboy toy with a red tip, this scene would've been a little cute (still a bit strange, but cute nonetheless). This man was playing with a REAL handgun in front of his two children!!!!
Problem #2: YOU ALWAYS ASSUME A GUN IS LOADED!!!! Yet another lesson that even hyper-liberal-old-me learned as a child. It is never mentioned whether or not the gun was loaded, but it absolutely DOES NOT MATTER!!! You never EVER cock a gun and point it at someone unless you intend to KILL THEM.....
Problem #3: If you absolutely must have firearms in the same house as your children, THEY SHOULD BE LOCKED UP!!!!! Especially if you leave the house!!!! The news is littered with stories of kids stumbling across guns and killing themselves, a sibling, or a friend. Even the most conservative card-carrying members of the NRA should be a little squeamish to see a father leave his two young children playing in a room next to a room with an unlocked handgun...
I have absolutely no idea what Eastwood was going for with this final scene. Maybe I missed something and there is some symbolic meaning in the portrayal of the treatment of firearms by the supposedly-cured-of-PTSD Chris Kyle. Feel free to respond if you have some explanation for this scene. I am sincerely dumbfounded......