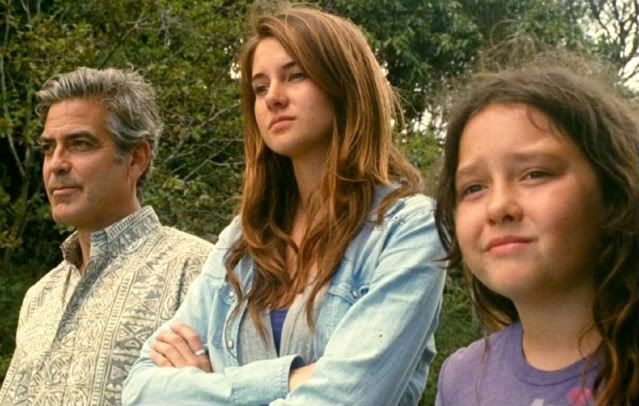 Goodbye, Elizabeth. Goodbye, my love, my friend, my pain, my joy. Goodbye. Goodbye. Goodbye.
Tonight thousands of couples are going to share a movie for Valentine's Day. Most of them are probably going to fall into the trap of "The Vow" (a formulaic Nick Sparks knockoff, at best). Even more unfortunate souls are going to trudge through the sickness that is "Breaking Dawn: Part 1" only to get the sleepy first half of a story that is criminal in its medieval treatment of love and feminism. I urge you to make this your Valentine's Day pick, and, if you read this too late, you should at least use it as a rinse to get all the average Hollywood schlock out of your head.
The Descendants is a beautiful story of loss and rebirth. It may be hard to sympathize with a main character who is independently wealthy and making a tough decision on how best to make even more money, but the rich are not immune to matters of the heart. George Clooney is pitch perfect as a soon-to-be widower who's decisions about end-of-life care for his wife and windfall real-estate holdings are overshadowed as he develops true relationships with his two daughters for the first time in their lives. While it may not be your run of the mill Valentine's treat, it will make you love those who are close to you all the more. When it comes down to it, is there anything better than that on Valentine's?